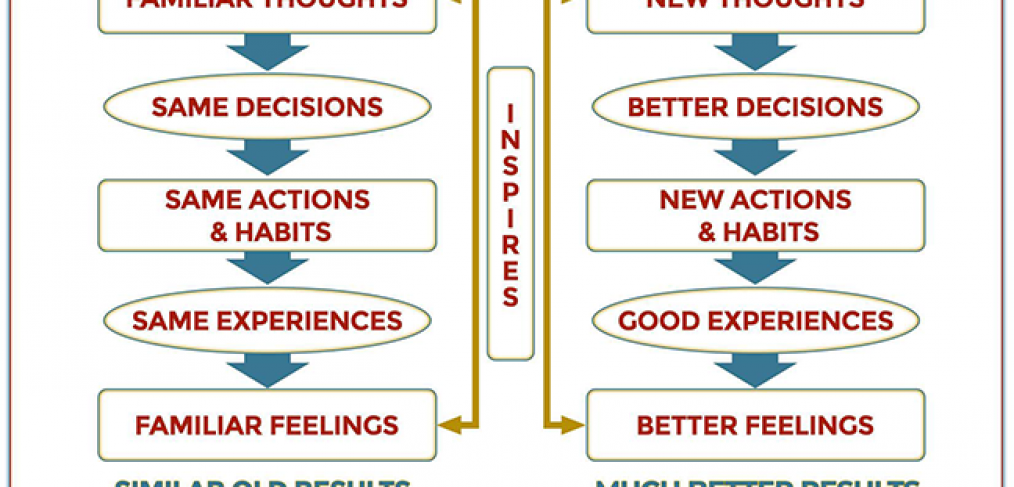 End Your Bad Business Habits
I'm sharing something really important about your success and in a way you've likely not heard before.
Now, here's something to ponder.  Frequently, I notice entrepreneurs are often running in what I call "habit mode."  They're doing a lot of the same things (or not doing much) when it comes to finding clients.
In essence, they have a set of behaviors and beliefs that have become so familiar to them, it dictates actions habitually (often unconsciously).
You may find yourself in a cycle of procrastination, comparing yourself, undercharging, being inconsistent etc.  Or you may do a lot, but you're unfocused with no clear strategy and systems to reach your goals.
I'm going to talk about this in detail at my new Success Key Virtual Mastermind on December 2nd (you can read more and come for free by clicking here.

First, I wanted to give you a little assignment. I created a bonus handout for you called "Upgrade Your Success Mindset" which you can download by clicking the image below: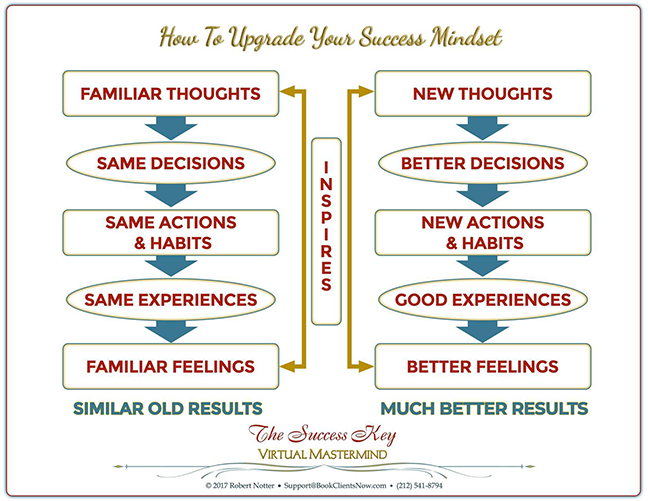 When entrepreneurs approach their business, they often (even unconsciously) take the same steps and do what feels "comfortable." But if you repeat the same things over and over nothing changes, right?
As you see in the diagram, what you think influences your decisions and actions, so then you get the same experiences AND the same results.
What if you stop telling yourself, "I can't call this referral partner, what do I have to offer?" or, "I tried this already and there are too many coaches, it's not going to work."
And you then decide (see the right side of the diagram) to think a new thought, which influences better decisions and actions. You're going to feel better and have more motivation to take action and get much better results.

Here's your assignment:
Notice what you think about related to success and your business.
Simply be aware of the thoughts and beliefs you tell yourself, without judgement.
Next, make the connection how what you think affects your actions, and how this makes you feel.
Decide to turn your focus away from the negative beliefs and thoughts, and then ponder, "Hmm, what can I tell myself NOW that will have a more positive impact on my motivation and mood?"
Keep those new positive thoughts in your mind, then notice in what good ways this affects the actions you're ready to take and how you feel.
This is the first and next step to get better results and more clients and income in your business. It's not about changing your marketing plan unless your mind is first on board.
At the live December 2 Mastermind I'll give you a complete system based in neuroplasticity on how to re-write the habits and belief patterns in your brain so you get MUCH BETTER results and profits in your business.
Please visit here now to save your virtual seat (and get a copy of the recording after the event):
This is your time to shine, and in each and every moment you can make the decision to allow the success to flow. Are you ready? 🙂

Much love and success,
Robert

P.S. As part of this Success Key virtual event I created Facebook community with amazing networking and education opportunities to connect with like-minded practitioners and get referrals. So be sure to check it out and join us:
https://www.facebook.com/groups/123968624941185/